With the world accelerating the tempo of life by the minute, the browsing and shopping behaviors change. Users give preference to surfing the web via their mobile devices right on the go now more often than ever. This explains the necessity of sites to switch to a version that'll be mobile-friendly, super-fast, convenient, tech-savvy, and to do it quickly. As you can guess, progressive web apps are such a solution.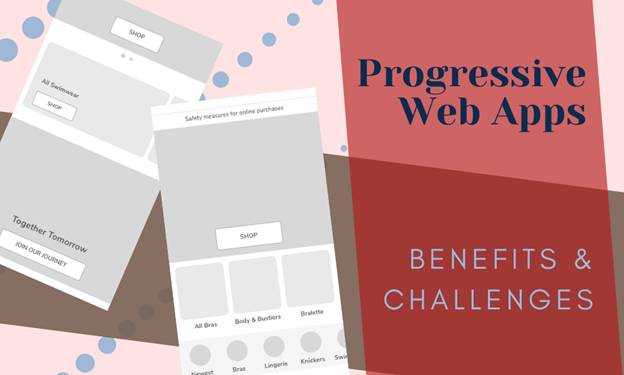 On this page, we'll introduce you to the main pros and cons of getting a PWA. We'll cover the major things that you should know about progressive web application development, how PWAs differ from native applications, plus, we'll reveal several myths and interesting facts.
PWA Benefits
Having a secure website that'll be able to cope with the continuously growing expectations of users is among the major reasons why so many business owners are investing in PWAs. To begin, let's start by going over why progressive web applications are an advantageous investment.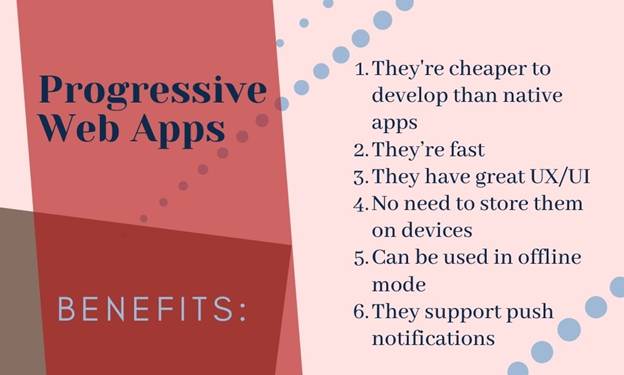 1. They're cheaper to develop than native apps
Although developing a PWA is no easy task, this solution is much more cost-effective when compared to the costs of building a native application. Perhaps, this first point already is a big-enough benefit that can outweigh the rest of the arguments!
2. They're very fast
One of the reasons due to which business owners invest in PWAs deals with their ability to provide top page load speeds. Because such sites pitch the displayed data in a different way, users don't have to wait long to view the desired content. With everything shown very quickly, in mere seconds actually, this reduces waiting time, helps to avoid cases when people get impatient and close the page, switching to a different site.
Obviously, this boosts user satisfaction and can lead to an increase in sales and to improved conversions, especially on mobile devices.
Should we mention that Google and other search engines that rank your website take site speed into consideration? It's one of the main factors that influence your site ranking.
3. They have great UX/UI
Reminiscent of regular native applications visually, PWAs can boast of having amazing UX and UI. With all the elements placed conveniently and every "move" well thought through, navigating a PWA is easy and enjoyable.
No more frustrated site users who can't close a pop-up or who can't see the needed data because it's too small or irrelevantly placed. PWAs are user-friendly and make people browsing them much happier.
4. They don't need to be stored on the device
You don't have to install a PWA to a smartphone or some other device to use it. Unlike native applications that usually weigh a lot and have to be downloaded from Google Play or some other official stores, PWAs function directly from the browser just like any other site. In fact, many people won't even realize that they're browsing a PWA, assuming that it's a cool mobile version of the website.
Mentioning the storage and maintenance matter, native applications usually require updates from the user when there are new releases. Plus, "natives" usually weigh quite a lot (60, 70, or even more MB) which can imply that they may be deleted at some point if they aren't used regularly like maps, social media apps, games, etc.
Progressive web applications can be added to the home screen of the device in the format of a link in just a single click. They don't weigh much and never have to be updated.
5. They can be used offline
An indeed cool feature of PWAs is their ability to be used in offline mode. From a technical perspective, this is possible due to caching and a few other tricks. In essence, this means that the user can continue browsing the site even if the Internet connection is very weak or missing whatsoever.
Furthermore, this is good news for those businesses that are oriented at markets with poor internet connections or constant network crashes as PWAs solve the problem easily.
6. They support push notifications
Retaining customers is another top priority for most businesses. Among the ways to do that is via push notifications. Just like with native apps, these regular reminders can return the user back to your site. This is twice as relevant in the case of eCommerce stores.
PWA Downsides
So are progressive web applications all that perfect? A few words about the downsides of PWAs.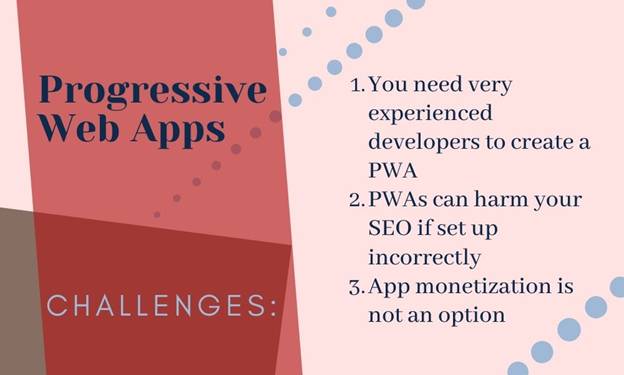 1. You need very experienced developers to create a PWA
As shortly mentioned earlier, developing a progressive web application requires a lot of skills. That's why if you've chosen a not too tech-savvy team to handle your PWA "construction" works, you may end up with a longer-than-expected big mess.
Ideally, your team of developers must have successful PWA projects to show you and be witty in Javascript-based modern frameworks such as ReactJS (even if they opt for creating the PWA using customizable out-of-the-box solutions like ScandiPWA).
2. PWAs can harm your SEO if set up incorrectly
There exists a myth that PWAs are deadly poison for a site's SEO. The thing is that this is only partially true. Keeping in mind the importance of SEO content, a site's positions in SERPs, and its rankings, dropping in SEO can be very harmful to a site.
In reality, the SEO of a PWA site isn't a problem if it is set up and taken care of properly. If it's not, you can count on major trouble in this area!
3. App monetization is not an option
If you plan to monetize the app that you get, progressive web applications most likely won't help you here. In this respect, native applications are much better. The same applies to the situation if you want to create a game. Although there are PWA games out there, and there are many of them, as of today, native-app games have more potential.
Final Thoughts To sum up everything covered in this article, there are more advantages of getting a progressive web application than not having one. They function quickly, have amazing features and visuals, people love using them, and they're cheaper to develop than native apps. Of course, the only possibility for a business to enjoy the "perks" that a PWA can bring is to find a good team of developers, capable of carrying out a high-quality application that won't destroy your site's SEO.
Image credit: Onilab