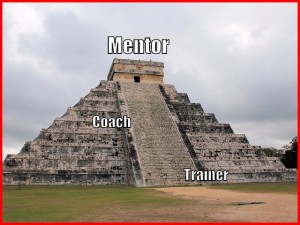 I suspect most of us would agree that only an idiot would say they see no value in receiving mentoring/counseling.
So, we would have no qualms in recommending mentoring/counselors to our friends as an avenue for further growth.
But, what about when we ask whether we ourselves are providing enough mentoring and counseling?
I recently came upon a pastor's highlights of a typical pastor's week. The key thing that stood out to me were the number of times he provided mentoring and counseling, with some of those instances being:
Talked to a pastor ready to quit
Talked with a man questioning his marriage
Helped a pastor think through strategic change
Talked to parents distressed over a son who got in trouble
Wrote 9 blog posts
Met with a staff member considering a new direction for his ministry
Talked to a husband thinking his marriage is over
Helped a businessman think through organizational changes
I began to wonder if I am doing enough mentoring. And, while I now think I probably am, things that I often considered just a lunch with a friend was considered by many of those friends as receiving some mentoring.
One thing I know, which you might not have realized yet, is that: anyone who has worked in an area for thousands of hours has the ability to mentor others.
Since I don't want to come across as preachy, I'll let this be the end of the post. I don't like to be preachy … I just like to share information that I believe might be helpful to you, and let you think about how to apply it in your life.
Take care.