Everyone can benefit from reviewing their calendar for the past year. It can help in summarizing your accomplishments, and it can help you get in a beneficial reflective mood.
There's even more motivation for iPhone, iPad, and Touch owners to do such a review, though. I discovered this morning, as I was reviewing my calendar for 2010, that there were some events in the early part of 2010 that were really supposed to be in 2011.
This scheduling problem arose from my misuse of Apple's Date Wheel. Let's use an example to show how it happened. I had purchased some new flowers for my wife's grave, and then wanted to schedule for the next purchase. So, I took the existing December 22, 2010 event and used the Date Wheel to reschedule it: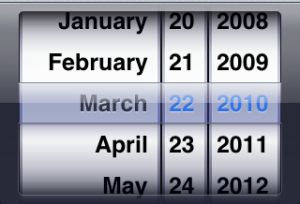 I spun the wheel from December to March and then touched the Done tab. But, I failed to advance the Year Wheel from 2010 to 2011, and the Date Wheel does not do the advancing for you. Over the years of using Palms and Pocket PCs and Outlook and Google Calendar, I am accustomed to having a date-picking tool that advances the year automatically for me. Like with this one from Google Calendar: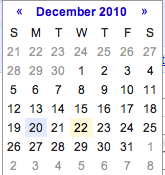 When I click the double-right-arrow ( >> ) at the top of the calendar, the month advances to January and the year automatically advances to 2011. Not so with the built-in iPhone, iPad, and Touch date-picker.
Good thing I did the review, because I found a couple of other items that I had mis-scheduled.
Now, you might say that I could just convert the example entry, about Vickie's new flowers, to a recurring appointment of, say, once every 3 months. But, it is not something I do exactly every 3 months. Sometimes I wait 4 months.
In the summertime, I might even leave the flowers in place for six months, if they are particularly beautiful. (I use custom-made silk arrangements, so they are typically very pretty and they are durable.) And, even if I did choose to replace her flowers every 3 months, it wouldn't always be at the same time of month.
Anyway, back to the point: it pays to do an end-of-year review of your calendar, especially if you reschedule items using your iPhone, iPad, or Touch.