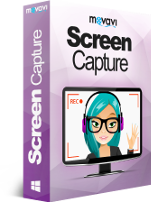 It can often seem as though there is an inverse relationship between how powerful a software is and how complicated it is to use – especially when it comes to video recording and screen capture. Generally the 'powerful' software options all tend to be technical and complex, whereas the 'easy' ones tend to be light on features.
The good news is that the Movavi Screen Capture bucks the trend in that regard, and provides software that is both powerful and easy to use. Its features will give you complete control over the recording that you take, and even if it's your first time using it you'll be able to grasp how it works in minutes – if that.
When you use the Movavi Screen Capture as a video recorder, you can set it to record a specific region or the entire screen while also choosing the audio source and selecting a frame rate. If you like you could even set the software to capture keyboard and mouse actions by displaying any keys that are pressed on the screen, or highlighting the mouse cursor.
On top of all that, the Movavi Screen Capture even simplifies the process of optimizing videos for specific devices or platforms. With the hundreds of presets that it brings to the table, you'll find support for practically all devices or platforms – including mobile devices and online video sharing platforms like Facebook or YouTube. To use these presets all you need to do is select the one that you want – and the software will automatically optimize your video accordingly.
Regardless of whether you're looking to record your favorite online video streams, webinars, Skype calls, or even create your own video content – the Movavi Screen Capture is the one tool that you need to make that possible. Because it is so accessible it will only take you a short span of time to get used to it and if you're willing to experiment a little and try out new things you'll be amazed by how much you can get done with the tools and features that it brings to the table.