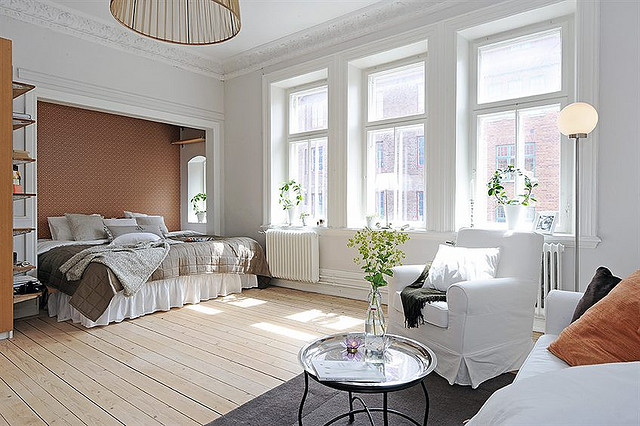 Every year brings a fresh list of design trends, it is impossible to redesign your house every year just to keep up with the latest trends, however it is often possible to tweak parts of your current design to fit with the latest must have designs. The top décor trends for 2016 are:
The Outdoors
Environmental issues and an eagerness to embrace the great outdoors have made it very desirable to bring the outdoors inside and enjoy it all year round. This can be especially beneficial in the colder winter months when you can feel trapped inside. One of the most obvious ways of doing this is to introduce plants into your home and create that greenery feeling. It can also be achieved by purchasing furniture which can be used both in the house and outside the house.
Alternatively you can add outside decorations to your walls, particularly the ones near the doors, this will help to feel like you are still outside.
Artisans
Artisans generally make items which are craft related, from ornate carved wooden furniture or ornaments to beautifully designed trinkets, china pieces and even jewellery. These items can be positioned in your house and mixed with vintage items and modern items. The best pieces to look out for are those that have been produced locally, this will show you embrace and support your local culture.
Minerals
Stones have always featured in gardens but they are now becoming a common sight in the discerning household. Mineral stones, which are effectively just colored stones, can be placed into a bowl in the middle of the table; semi precious stones can be polished and used as door handles or even candle holders. A lump of quartz can simply be a display piece by itself; its glittering surface is guaranteed to catch anyone's eye. Even fool's gold can be used as a display; by itself or mixed with others to create a dramatic effect.
Tiles
The standard tiled backsplash has been present in many homes for an extensive period of time. However the trend is now changing, geometric patterns are likely to become extremely popular. The most desirable effects will be those that appear to be moving, swirls and waves will create a peaceful, yet stimulating environment. It is likely that this effect will be created by using tiles, wood and even cement. It will also not be restricted to the backsplash; moving patterns will become part of worktops, flooring or even some wall coverings.
Metals
This trend was started in 2015 but looks set to continue and grow in 2016. Mixing different metals, such as bronze, silver, gold and even copper is an acceptable home décor technique and can be added to a variety of rooms in your home. If you have also wanted to have gold taps in your bath but worried about it looking ostentatious, then now is the time to do it, add some bronze taps to the sink to create a funky, retro feel to your bathroom.
Window treatments
The overall décor of a home is not complete unless it comes with proper window treatments. This season is all about blends and striking colors. If your living room is decorated with lighter nuances and pastels, then you should opt for darker curtains in nuances of black or marsala. This will create balance, but also shade during the hot summer days.
Sustainable accents
An increasing number of products are now being made from reclaimed or salvaged materials. This is becoming a must have item for your home, not only are you supporting the environment, you are also making a statement that tells others you are. When looking to purchase new furniture you can consider recycled opportunities, such as buying pre-owned items. Alternatively look at the labels of the items you wish to buy; they should be at least partially made from recycled material. The foam in your settee or the wood from which your new table has been made can all be created from recycled or sustainable sources.
Perhaps more important than the statement you make to others is the fact that you are actually doing something to help the environment; and embracing the latest trends while doing so!
By Alfred Stallion and VanessaArbuthnott.co.uk!