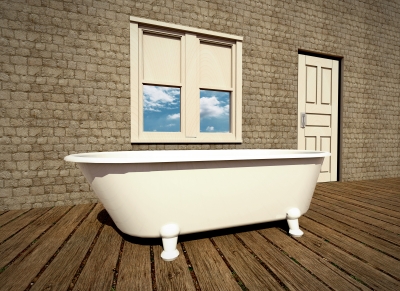 If you want to add style to your bathroom when you have to replace your bath, think about getting a freestanding bath. This type of bath can enhance every decor from modern to traditional and comes in a variety of models. Keep in mind the budget that you're working with so that you will buy a bath that you can afford. Working within your budget will make the entire experience much more satisfying. Let's review some facts to see if a freestanding bath will work for you and your family.
How much space do you have to work with in the bathroom? Measure the area and then carefully read the specifications included in the description of the bath that you want. If you have enough room, using a freestanding model can give your bathroom the 'WOW' factor that you want as a focal point for the room. This type of bath is an aesthetically pleasing addition to any bathroom that needs a new look.
What design of bath will you choose for your bathroom? There are options that can match any interior design that you have. Depending on the size of your bathroom, you can pick one of the quality Carron freestanding baths that has legs, a slipper shaped bath, one that sits directly on the floor, or a single or double-ended bath. Think about who is going to be using the bath, their size, and whether you want a traditional or modern look.
Will you have to hire someone to make changes in the plumbing connections you used with your old bath? Can these modifications be made at a reasonable cost? When you begin moving plumbing and drain hook ups you incur additional expense for replacing your bath, so keep this in mind as you consider having a freestanding bath installed in your bathroom.
What materials would you like the freestanding bath to be made from? Some baths are made from materials that add weight to the bath and can require that your add support to the floor of your bathroom. When the tub is filled with a person and water it's imperative that your floor joists be strong enough to support this weight. Carefully read the specifications of the bath that you want to buy so that you can see if you'll need to make any structural changes to your home.
Finally, think about where you will place the soap, shampoo, and other bathing necessities that you'll be using during bath time. Will you use a piece of repurposed furniture or would you prefer to add a deck around one side of the bath to use? Keep in mind that you don't want to detract from the look of your bath. You should also keep the bathroom as free from clutter as possible to prevent falls that can injure you or a family member. Taking into consideration all of these details can help you decide if a freestanding bath will work nicely in your bathroom.
Image courtesy of Sira Anamwong/FreeDigitalPhotos.net