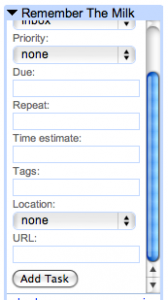 It's a good practice to have all project material in one place, even emails, and Gmail makes it easy to do. The way Gmail helps you with this is by giving each email conversation a unique web address, or URL as it is more properly called.
That address is of the form and you obtain it just by opening up the email you want, in your browser, and copying the address from the browser's address bar. Once you have copied it, you can easily paste it into your project material.
Let's consider an example. A publisher recently sent me an email asking if I would review a book for them. Because the book sounds interesting, I agreed to do it and sent a reply email.
Now, if I wanted to track this within the web-based task application Remember the Milk, I could do so directly from the RTM gadget panel within Gmail on my browser. Just refer to the picture to the right, and imagine me filling in the task ("Review the book Hold Fast") and copying the Gmail URL into the URL tab. Once I click "Add Task," I can then visit RTM and see the task, and just click on the URL to visit the email.
Now, while RTM can be used for this, as we've shown, my own preference is to use Basecamp. Below is a picture of how doing this looks with Basecamp:
I use the WriteBoard feature within Basecamp for this because it can serve as a ToDo and I can also use it to storyboard the article once I read the book.
You can use this trick within a lot of project management platforms. For example, some people use Word and/or Excel documents for project management, and all they have to do is paste the Gmail URL into the spot they want, and they can click on the link to go to the email.
Well, that's all there is to it. I hope you find this tip to be useful.