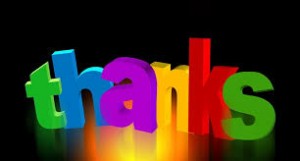 I have been so engrossed in computer problems the past few days that I did not realize until yesterday that Keener Living had a 2-year anniversary this month.
This realization came to me through a very nice email from someone who had read my ebook, and was inspired by the section on The Big Picture (addresses my search for meaning after my wife passed away). In his email, he said "[I am] not religious in the traditional sense, [but] I've said a 'prayer' for your dear wife."
I was very moved by that comment. There is something very special to me about the fact that a non-religious person would say a prayer for my wife.
Anyway, thinking about this reminded me that I've received emails from several of you over the past couple of years, and I want you to know that I am grateful for those. I am also grateful for all the comments you make on my posts. Very often you provide insights that are valuable to me and to other readers.
So, I am taking this opportunity to thank you, very much!