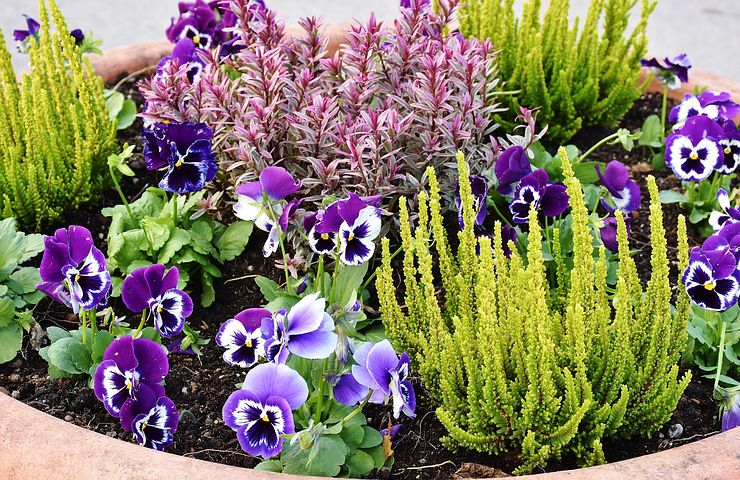 The natural beauty, vivid colors and refreshing scent of fresh flowers makes them a naturally decorative item to have in a home. That's why livening up your home with the beauty of fresh flowers is simplicity itself, and it's also very cost-effective. Let's explore some quick, easy and affordable ideas for decorating your home with flowers.

Color Coordinate With Flowers
The vivid colors of flowers is truly stunning, and the bright beauty of fresh flowers can be a interior design element in and of itself. A great way to save money on flowers is to arrange them yourself, rather than buying them at a florist. Local grocery stores often sell flower bouquets at discount prices, so you can buy a selection of different flowers, like bright orange gerber daisies, pink carnations, white roses and purple irises, and them divide them up and combine them together into several different bouquets.
The amazing colors of these flowers play together beautifully. Make a few combined bouquets and place them in pretty matching vases around your living room for a look that has a gorgeous impact.
Create a Design With Clear Vases
Using a clear vase is a great way to show off a beautiful flower arrangement, as a clear, cylindrical vase will show off the flowers' shape from the side as well as from the top of the vase. Even a tall drinking glass can make for an effective vase, so if you have a few tall glasses, use them to create a display for your flowers. Dramatically shaped flowers like calla lilies look wonderful in a tall vase, as their interesting shape becomes even more eye-catching when seen from a side view.
Go With Bold Color
Bold, rainbow colors have a real "wow" effect in a room, which is why using colourful rainbow roses
to decorate is a great choice. These tinted roses light up with all the colors of the rainbow, and they look delightful in simple containers, like vases in dark blue, that highlight the gorgeous colors of these lovely flowers.
Go For Contrast
Another great way to decorate with flowers is to use contrast. An arrangement of all white flowers, like white carnations, roses and lilies put together will look incredible in a vase that's a dark, bold color, like deep blue, pink or black. Contrast this with a table cloth in white or a color that matches the vase for a look with amazing impact.
Decorating doesn't have to be difficult and expensive. Look for inexpensive bouquets at the market and then mix and match, to create a decorative piece that's truly stunning.