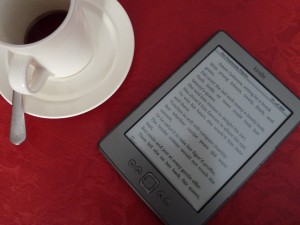 Today I decided to buy Steven Pressfield's The War of Art using my Kindle. Mistake.
The ebook is so poorly formatted as to make it not worth my time to read. Oh, no doubt the quality and value of what Mr. Pressfield has to say, makes the book a worthwhile read. The paperback version has great reviews (not just at Amazon, but anywhere you look).
I'll show you what I mean. Here is the first paragraph from the first chapter:
"Most of us have two lives. The life we live, and t
he unlived life within us. Between the two stands Resistance."
Notice the breaking of the words "the" and "stands." The whole book is like that. The formatting prevents me from even highlighting the text, so that I could save it to My Clippings. When I try to select the paragraph, the selection only applies to the "ds Resistance."
This is not the first time I've gotten a poorly formatted book from Amazon. It also happened with The Brothers Karamazov. But that ebook only cost $0.99, instead of the $9.99 that Pressfield's cost.
After fuming for a bit, and writing a negative review at Amazon, I decided to see if the book was available for iBooks, so I could read it on my iPad. Viola … it was, so I download The Sample and the formatting is fine. I guess I'll go ahead and buy it again, even though I can't use highlighting within the iBooks version.
Perhaps it will force me to take notes instead. That is probably a better way to learn than just copying and pasting highlights into a big text file that I might not ever fully read. (The My Clippings.txt file for me is becoming huge.)
If I had just gotten the sample of the ebook from Amazon first, I would have seen how poorly formatted it was (hopefully), and would have saved myself $10. Often I do check out samples before buying.
But this book had such good reviews. And my experiences with Amazon have been overwhelmingly positive over the years.
Lesson learned for me. Hopefully a tip that might save you a few bucks someday.