Your mouse matters probably more than you think. Gaming would not be where it is today without companies such as Razer investing millions of dollars into new technologies to make mice more efficient, cooler and overall improving gamers' gaming performances. Could you imagine yourself playing games with a regular, cheap mouse and breaking off in the middle of a game? Certainly not.
Gaming mice designs went through several significant changes. A good gaming mouse needs to have RGB,should be wired, but it also needs to be practical. You need the right kind of mouse for the right type of games. This leads us to this day and age where the diversity of gaming mice has reached its peak, with different mice being used for different types of games.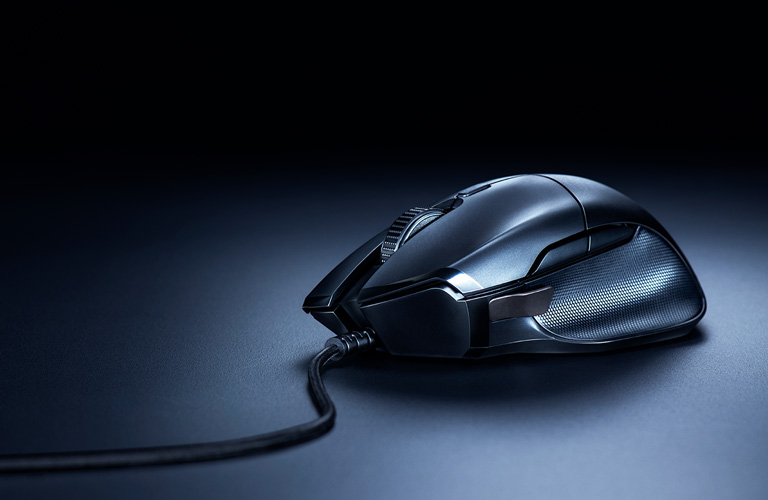 the Razer Basilisk gaming mouse
Do You Have the Right Mouse for the Job?
As cool as some mice might be with all their gimmicks and cool features, depending on what type of games you are into, you might want to look at something more dedicated.
For shooters, be it 1st person or 3rd person games, simple gaming mice are the most efficient. They need to have a bit of weight to them. The extra weight helps improve precision. Most high-end gaming mice can have their weight adjusted.
For strategy games (RTS, RTT games) and MMOs, mice that have extra buttons and dedicated software to create macros and remap key bindings work the best. They also tend to be quite cool with all the extra buttons and illuminated zones.
As a rule of advice, stay away from wireless mice especially if you are playing First Person Shooter games. Wireless mice have higher input lag and that will affect your performance, precision and ability to improve. Remember that nothing beats a classic, cool-looking, wired gaming mouse. There are a few exceptions from the rule. Razer has developed a few wireless gaming mice that both look cool, are effective, and quirky. Check out their Razer Basilisk, a FPS gaming mouse here if you are interested. However, most wireless gaming mice are usually used by MMO players.
The technology keeps on improving but we have not reached the point in which wireless mice can completely replace wired ones. Wireless mice such as the Razer Basilisk and Razer Viper are probably the best wireless mice available now. Both use the proprietary Razer HyperSpeed technology which reduces input lag significantly. They can work for shooters but for MMOs, the Razer Naga is a much more rational choice.
Conclusion
The selection of gaming mice today is truly astonishing. Many small Chinese brands have flooded the market and they offer rather decent and cool looking mice. The well-known and prestigious brands are still available and because of competition from the likes of Logitech and Razer, everyone is diversifying their products, releasing more and more gaming mice. Wireless gaming mice are still more of an exotic thing and you should prepare to pay top dollar if you want reasonable precision and performance in a cool form factor.
If there is one to make out of all of this is that you get what you pay for. If you go for a cheap mouse, do not expect wonders. When the time comes to start shopping for gaming mice, every dollar counts and usually, the big brands rarely disappoint. Just arm yourself with a bit of patience and look through the hundreds of gaming mice models on sale. The one that will boost your gaming scores is out there for you to discover.