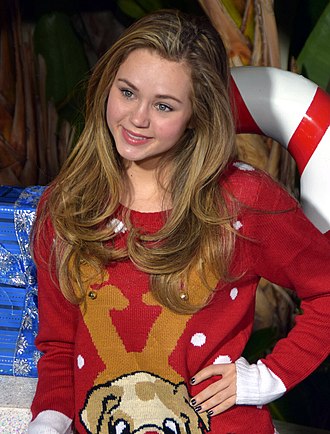 image source: wikipedia.org
Stargirl is a teen superhero drama based on a comic book series of the same name created by Geoff Johns. Johns also serves as the executive producer of the show, and the second season is set to premiere later this summer. The show is full of action and heart, and its lead by a young actress named Brec Bassinger who plays Stargirl herself.
Who is Brec Bassinger?
Brec Bassinger is a 22-year-old actress who was born in Texas, where much of her family still lives. She began acting at a young age, and her first major role was portraying Emma Hawking in a Nickelodeon television series called The Haunted Hathaways. This show aired from 2013 to 2014, and Bassinger appeared in a couple of shorts and TV movies until her big break came on the Disney Channel sitcom Bella and the Bulldogs.
In Bella and the Bulldogs, Bassinger played Bella, a member of the cheer team in Texas that is suddenly given the role of quarterback for her school's football team. The show ran for a total of 40 episodes in 2015-2016, and it gave Bassinger much wider recognition.
While filming Bella and the Bulldogs, Bassinger also appeared on two episodes of the hit TV series The Goldbergs, which starred Wendi McLendon-Covey and followed a family in the 1980s. Bassinger then appeared on three other TV series, School of Rock, All Night, and Chicken Girls, before securing her leading role as Courtney Whitmore on Stargirl.
Stargirl's Backstory
Courtney Whitmore leads a normal life in sunny and exciting Los Angeles before her mother marries a quiet and reserved man named Pat Dugan. After their marriage, the family moves to a small town called Blue Valley in Nebraska, and Courtney struggles with the transition.
Courtney clearly isn't too happy about her mom marrying Pat, and the two don't exactly hit it off at first. One evening, Courtney begins sorting through Pat's belongings when she finds a strange staff that seems to have a mind of its own, yet she finds that she has some degree of control over it. She later discovers that Pat used to be a sidekick to a superhero years ago and that he has all kinds of special superhero equipment.
At school, Courtney forms unlikely friendships with Yolanda Montez, Beth Chapel, and Rick Tyler, and the group decides to team up and take on the dark forces afoot in Blue Valley with the tools left behind by the previous generation of superheroes.
Courtney was raised primarily by her mother, Barbara Whitmore, and her father was never present throughout her childhood. Courtney also has a stepbrother, Mike Dugan.
Season 2 Premier
Season 2 is set to premiere on August 10th, 2021 on The CW, and a new episode will be released each week. It was also recently announced that the show will be renewed for a third season, so Stargirl fans still have plenty to look forward to.
You can watch the first season of Stargirl on The CW app, HBO Max, Amazon Prime, and YouTube TV.