There are many parts of an office that need to maintain a top appearance. Perhaps the first thing that a client or an office visitor will notice is the floor. A clean floor says a lot about a company. Here is a look at five reasons why a clean commercial floor is important.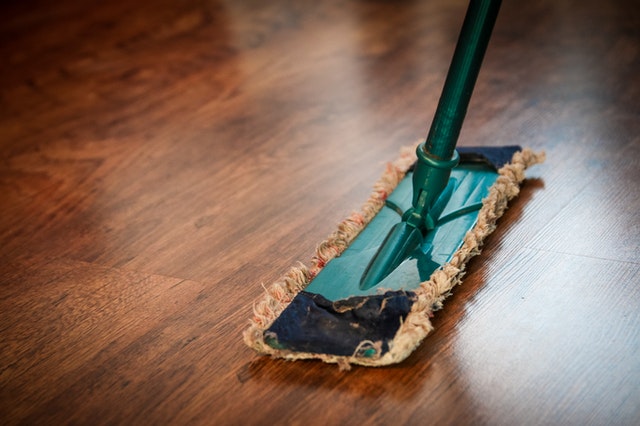 1). Reduces the Appearance of Scuffs
A commercial office that has hardwood floors will develop scuffs. These scuffs can really stand out over time. A top commercial cleaning company will be able to buff out those scuffs and give the floor a pristine appearance.
2). Protect the Floor From Long Term Damage
Many commercial floors use top materials such as hardwood or stone tiles. Over time, these flor materials can sustain damage that can lead to thousands of dollars in repairs. A commercial cleaning flooring company can protect that flooring with a wax coating. This coacting can be applied and then later stripped and reapply. A wax coating not only protects hardwood floors, but it also gives the surface an attractive shine.
3). Can Create Healthier Air in Carpeted Areas
If there are carpeted areas in an office, then this area can be prone to unhealthy air due to particles, dust, and other elements trapped in the carpet. Commercial cleaning companies can not only vacuum the carpeted areas on a nightly basis, but they can also occasionally steam clean or shampoo the carpet to ensure that all the dust and harmful particles are cleared from the surface. Not only that, a clean and fresh carpet gives the office a more professional appearance.
4). Prevents Possible Slips and Falls
Hard surfaces floors can become hazardous if there are spills and other wet spots. With regular commercial cleaning, hard surface floors can be cleared off any spills or slippery areas. The result is a safer working area. Regular floor cleaning can also save the company a big headache from having to deal with a workplace accident and workers comp liability.
5). Prevents Odor Build Up in Carpeted Areas
Over time, items can be spilled onto a carpeted surface such as coffee, food, and other materials. This can cause a carpet to have an unpleasant odor. With regular commercial cleaning, carpeted areas can clear these areas of these items that can create an unpleasant odor.
Most Frequently Asked Questions About Commercial Cleaning
How Does a Company Find a Commercial Floor Cleaner?
A good place to get started looking for a commercial cleaning company is to simply do an internet search for a commercial cleaning company along with the name of the area where the commercial property is located. For instance, one can perform an internet search for "commercial cleaning services New Brunswick" to start narrowing down their best local cleaning service options.
How Often Should a Commercial Floor Be Cleaned, Washed, and Waxed?
A commercial floor should be cleaned once a day. Carpets should be cleaned about once a week. Finally, hard surface floors should be waxed once or twice a month.
Having a Top Commercial Floor
It is important to maintain a clean and attractive looking floor for a commercial business. The right commercial cleaning company will be able to properly clean and maintain any flooring surface.