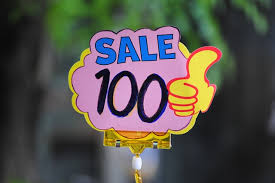 In retail, exposure is everything. As a retail store, the goal is to grab the attention of passersby so that they come through your doors. The more people who come into your shop, the higher your potential revenue. When it comes to retail signage, experts agree that it's outdoor signs that have the biggest impact on your business. Here are a few reasons why outdoor signs have a positive impact on your business.

Visibility
One of the most important reasons outdoor signs are good for your business is visibility. In most cases, an outdoor sign is the first thing that customers see from the street. This means that it helps them decide if they will visit your shop before you even have a chance to hook them with your prices or quality products. Passing customers have no loyalty to your brand at all. They're judging your business based on visual cues, and your sign is a big part of that.
Increase Brand Awareness
Even if your sign doesn't help get customers in at first glance, it helps increase awareness of your brand. Customers can't consider visiting you the next time they need your products or services if they don't know your company exists. A good sign can be seen from the road and be easy for customers to read quickly. Over time, customers will start to recognize your brand and consider you the next time they need a certain product.
Functional
Your sign is also functional because it can help new customers find you. If a customer looks up your business online and gets directions to your store, a large sign will make it easier for the customer to pinpoint your location. Studies show that customers are much more likely to visit a store that is easily seen from the street. When trying to find stores, customers tend to give up on their search faster if they can't find the store in the first drive-by.
Outdoor signage should be an important aspect of your advertising plan. With all of the competition in any given market, small signs no longer get the job done. Investing money into a proper sign for your business will help you increase foot traffic and eventually lead to more sales.