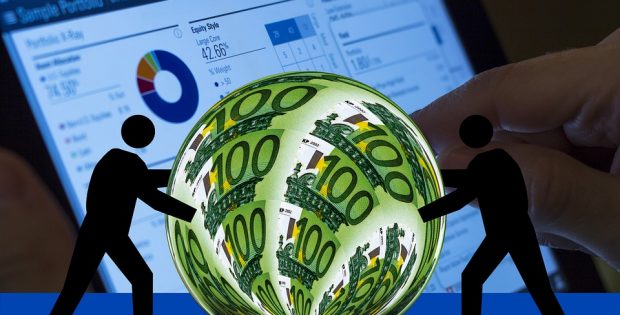 2016 has certainly been a great of great political and economic upheaval. From the UK's decision to leave the European Union to the election of Donald Trump as the 45th President of the United States, we've certainly had no shortage of major political upsets.
However, which 2016 may have been the year of the upset, 2017 looks set to be the year of the ramification. After all, Donald Trump has only just been Inaugurated, and Britain hasn't even begun the process of leaving the European Union, and there's still confusion about when Article 50 will be enacted (as well as discussion about whether it could be blocked entirely).
When we add other variables to the mix, such as fluctuating oil prices, a changing global economy and tense relations between world powers, 2017 looks set to be a year of great market turmoil and unrest.
However, this means that 2017 could be a boon for investors. After all, from chaos comes opportunity, so 2017 could be lucrative for those who predict market movements correctly. With this in mind, here are 5 reasons why you should learn basic trading in 2017:
We Could Witness a Building Boom
The subject of housing has been somewhat of a hot potato in British politics since the Thatcher era. However, for the first time in over two decades, it appears as though we will see a substantial rise in British housing stock.
Not only is this great news for property developers and first time buyers, but it's also great news for investors, too. Construction was one of the biggest 'losers' in the aftermath of the Brexit vote, with stocks plummeting on the announcement of the result. It appears as though the picture could now be significantly brighter for the sector, providing investors with opportunities in the stocks and shares markets.
This is because, in his Autumn Statement in November, the new Chancellor Philip Hammond announced that the government would support a number of housing projects to the tune of £3.7 billion. This includes a £2.3bn housing infrastructure fund and a £1.4bn to construct affordable homes. This may not solve the housing shortage in the UK entirely, but it is a signal of intent by the government and it should lead to investment opportunities relating to construction.
Like or loathe President Trump, Wall Street analysts are all in agreement that he will be good for business both in America and across the pond here in the UK.
This is clear in his oratory. In each of his speeches since the election, he has spoken as a business leader, rather than a politician. As such, in his Inauguration address, his promise to put "America first" was central, including American jobs and American businesses. Plus, he's also made it clear that he sees the "special relationship" with the UK as a priority, which is good news for UK investors and businesses.
His views beyond the economy may sound dangerous to most, but his business acumen could well revitalise the American economy, providing plenty of investing opportunities in the process.
It's not just business at the other side of the pond that are smiling though, as UK businesses are also set for some relief.
2017 will see the beginning of the government's planned corporation tax cuts, easing business stress in the wake of Brexit. The cut will see Corporation Tax drop from 20% to 19% in April, which should provide British businesses with additional funds to not only pay dividends, but also launch expansion plans. This rate will reduce to 17% by 2020.
Rough estimates suggest that the reduced rate of Corporation Tax will mean that UK businesses have an additional £2bn to spend each year. This money will likely be used to fuel the growth of industries, persuading many key London based businesses to stay in a post-Brexit Britain.
Capitalise on a Technological Boom
Admittedly, it's hardly the world's best kept secret, but the next 3-5 years look set to witness a technological boom.
Over the last decade or so, we've seen a great deal of technological expansion, but 2016 paved the way for the start of a new way of thinking.
3D printing specifically and automation in general are excellent examples of this. In the coming years, new, automated technologies are likely to reduce the reliance of big business on manual labour. This will not only reduce a business's overheads, but it will also reduce human error and increase product performance. As a result, 2017 looks like the best year yet to invest in tech start-ups.
Take Advantage of Currency Uncertainty
These four reasons means that we're incredibly likely to see a large volume of currency fluctuations throughout 2017; particularly as large political announcements are made, such as when the UK will trigger Article 50. Through trading and investing, you can exploit these market fluctuations for your own gain. One way that you can do this is through spread betting.
Spread betting doesn't necessarily limit you to currencies, either. You can also choose from thousands of spread betting markets, including everything from indices, commodities and equities.
If you're new to the idea of trading as opposed to traditional investments, then spread betting could be a good choice for you, as you never own the particular options in question. The main advantage of this is that you can place an initial deposit for an option that only needs to be a fraction of the actual product price.
Spread betters call this 'leverage'. It allows a trader to increase the size of their trade while also increasing their exposure. Overall, this means that the potential risk is greater than in conventional trading, but so is the potential reward. You can learn more about leverage and how spread betting works through brokers such as ETX Capital.
Those are just five reasons why you should learn basic investing in 2017, and there are hundreds more. Investing can help you see opportunities with lots of potential through market turmoil, and it can be a great second source of income. Take a look to see whether it's right for you today.